For the legislative and political week August 24-28
Welcome to the August 24 issue of the NFIB California Main Street Minute from your small-business-advocacy team in Sacramento.
Today, August 24, begins the final week of the regular session of the California State Legislature, ending a biennium that will be one of the most noteworthy in state history for what occurred inside and outside the Capitol.
Senate Bill 1383, which would expand medical and family leave protections from employers with over 50 employees to employers with over five employees, is shaping up to be the mother of all floor fights, predicts NFIB California's legislative advocacy team. A top priority for Gov. Gavin Newsom and organized labor, over 100 business groups have coalesced to defeat the bill.
Click here to read a rundown of other hot bills, including the one he deems one of the "toughest cage matches for a vote," and to learn more about a legislative purgatory called the Suspense File.
Kudos to Grassroots Manager Taylor Criddle for putting together two virtual Fly-In meetings for NFIB members with California U.S. Reps. Jim Costa and Tom McClintock, which attending members found highly informative and helpful.
Criddle will continue his nicely bipartisan touch with virtual meetings this week with U.S. Reps. Doug LaMalfa and Jimmy Panetta. There are a lot of questions and concerns with Congress right now, including PPP loans and small business liability, and these meetings have given members a unique and exclusive insight into these issues and more. Look for your email invitation from Criddle.
He patiently waited his turn all day, but when the time came, State Director John Kabateck was ready to tell the Senate Judiciary Committee about the threat Assembly Bill 3262 poses for small business. He had some help in delivering the message from Sen. Anna Caballero, who also on August 18 wrote a guest editorial for CalMatters warning that AB 3262 "will effectively strangle the only pathway that small businesses currently can pursue to sell goods and earn revenues online, by extending strict liability to the online marketplaces where their goods are offered for sale." The committee, nevertheless, passed the bill, 7-0.
This Tuesday, August 25 at 11:00 AM, Kabateck joins State Treasurer Fiona Ma and other CA leaders for a virtual panel hosted by Golden Gate University to discuss the current state of the business climate and resources available to small and minority-owned business owners to help them keep their doors open and rebuild. If you are interested in attending, go to https://www.ggu.edu/shared-content/get-started/ips.
Meet Denise Duncan, owner of AT Industrial Products in Pomona, the subject of the latest NFIB California member profile by Alzada Knickerbocker.
Congratulations to the newest member of NFIB's CA Leadership Council, Beth Booth, who earned 12 media hits announcing her new role with NFIB, including this mention in the Digital Journal.
NFIB California's August 18 news release highlighting differences in California's rankings from the nation as a whole in the latest Small Business Problems & Priorities report was covered by Fox&Hounds and the Citizens Journal of Ventura County.
Nationally
Thanks to all of you who participated in last week's virtual Fly-In, the best attended of all prior ones.
Look for another poll of the NFIB membership this week that will again measure how many small businesses have run out of their PPP loan money, how many would like another round of it, and how long they expect to hold on.
NFIB California Main Street Minutes are published every Monday on the NFIB California webpage. Two additional updates are published the first and third Thursday of each month for inclusion in the bi-monthly newsletters to the membership. Next California Main Street Minute is August 31.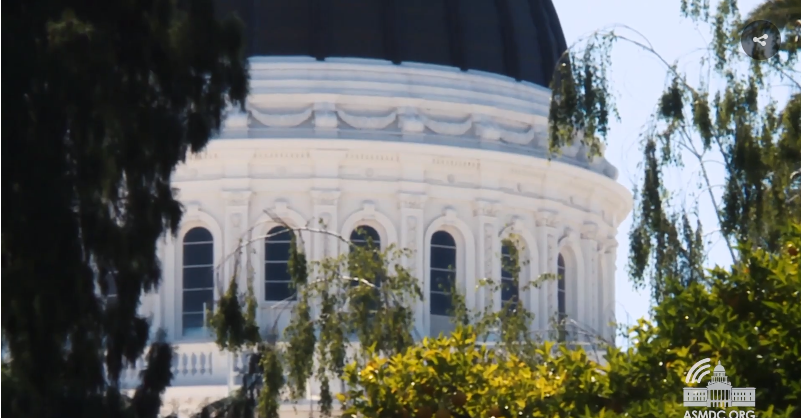 Photo courtesy of the Capitol Annex Project website