Will a second attempt to hold small businesses harmless for manufacturing defect succeed?
On a bipartisan 5-2 vote January 20, the Judiciary Committee of the Arizona Senate passed Senate Bill 1092 onto the full Senate for its collective consideration.
SB 1092 would protect retailers and other businesses from unfair product liability lawsuits while maintaining the right of the consumer to sue other parties in a product's chain of distribution. With certain exceptions SB 1092 would protect sellers of a product from the unfair financial burden of expensive attorney's fees and the time required for litigation—simply to prove their lack of liability. More about the measure can be read here.
"In Arizona, the current system of manufacturer indemnification of the seller is the problem … What we're trying to solve here is something 20 states have already adopted," said NFIB Arizona State Director Chad Heinrich in testimony before the Judiciary Committee.
This is the second attempt to pass innocent seller legislation. Senate Bill 1449 passed the full Senate in 2020 but was interrupted by the COVID pandemic during its House journey. See 'Related Web Stories' below the video.
In addition to NFIB, other business groups supporting SB 1092 include the Arizona Retailers Association, Arizona Chamber of Commerce, East Valley Chambers of Commerce Alliance, Greater Phoenix Chamber of Commerce, and the Home Builders Association of Central Arizona. The main opponents are the state plaintiff lawyers.
Click the photo below to listen to State Director Chad Heinrich's testimony, which begins at the 2:15:40 mark.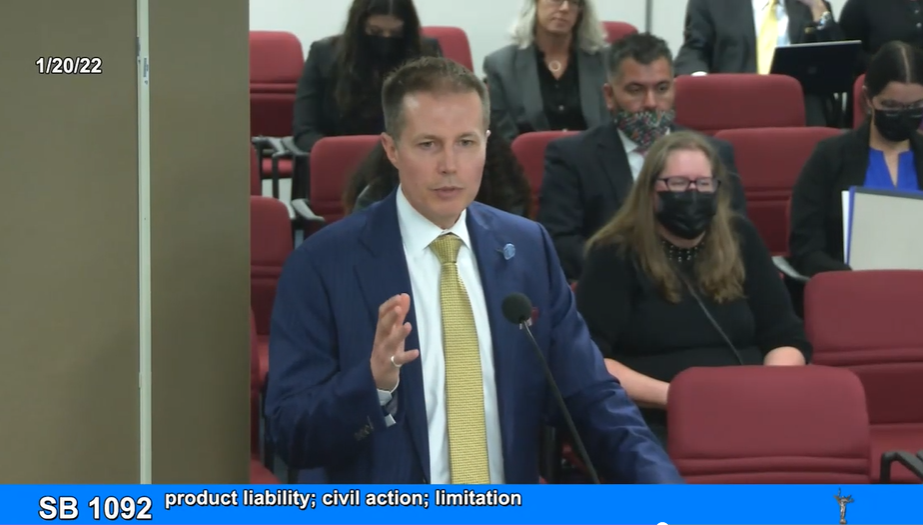 Related Web Stories