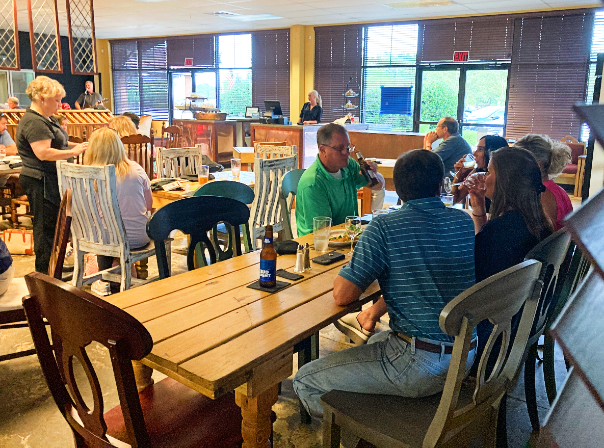 Cara's Trattoria
9559 Vaughn Road, Pike Road AL 36064 (Pike Road Town Center)
Employees:10
Cara's Trattoria on Facebook
Brett Hall co-owns the family restaurant with his wife, Cara Coreale, and sons, Michael Forsley and Ray J Hall.
"Cara and I have been in the catering business for over 20 years," he says. "We've worked large events of 300-plus guests to small parties.
"Cara has long had a dream of opening her own cafe," he says. "It finally happened nearly two years ago as the COVID 19 pandemic was getting underway. We did well by providing baked goods, casseroles, and other packaged meals for people to pick up and take home. This was on top of our in-store cafe business.
"Catering has just started to reemerge as a viable profit center. Thankfully, we are doing more parties, weddings, and luncheons. Alabama and especially the Montgomery area provide a supportive environment for businesses like ours. We are thankful for that and for the many people who have become our loyal customers over the years."
Q: How long has your company been a member of NFIB?
Hall: One year.
Q: Why did you join?
Hall: We've known for many years that NFIB is the one true voice for small business owners.
Q: What state and federal issues are most important to your business, and what has NFIB done to help you address them?
Hall: Keeping taxes low and easing the regulatory burden on small businesses. 
Last words: "There's a huge difference between signing the back of a paycheck and signing the front of one. Once you've had that experience, you know what it's like working for yourself."