NFIB report holds members of Congress accountable for their votes on key small business issues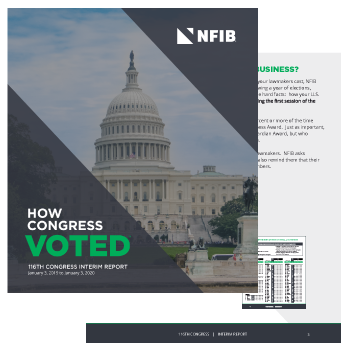 America's small business owners are constantly overcoming challenges, especially in an unprecedented year like 2020. For small businesses to recover and thrive, they need lawmakers to vote with them on key legislation. Among NFIB's commitments in the fight for Main Street, is to hold lawmakers accountable for their votes on the small business issues that our members have told us are a priority.
NFIB's pre-election How Congress Voted report was published last week, clearly showing the voting records of U.S. Representatives and U.S. Senators and helping NFIB members assess whether their representatives in Congress earned their vote in this election and future elections.
How Congress Voted: See how your members of Congress compare on Key Small Business Votes 
Legislators who voted with small business on key issues 70 percent or more of the time during the 116th Congress earn NFIB's Guardian of Small Business Award.
One Member, One Vote
Whether it's existing laws and regulations that need changing, or legislation that impacts small business, NFIB members vote four ballots each year – two on federal issues and two ballots on state-specific issues. Ballot results determine NFIB's policy positions and priorities in its fight for the rights of small businesses. The latest NFIB member ballot on Federal Issues was launched last week and is available now through December 31, 2020. Thousands of NFIB members have already responded, voicing their positions on key issues. NFIB members can log in here to vote their Federal Ballot #577.
Key Votes
The results of NFIB's federal-level One Member, One Vote balloting system inform NFIB's policy positions and the legislation that NFIB designates a Key Vote in U.S. Congress. NFIB asks legislators to support these consensus views of small business owners and reminds members of Congress their votes are being monitored and will be reported back to NFIB members in the How Congress Voted report.
U.S. House Key Votes for the 116th Congress
U.S. Senate Key Votes for the 116th Congress
Year-round, NFIB makes it easy for you to monitor Congress at NFIB.com/VoteReport to see how your federal legislators treat small business in the coming months. You can also visit NFIB.com/State-Voting-Records to monitor your state lawmakers.