Optimism declines and uncertainty rises as the struggle to fill open positions continues to worsen
NFIB's monthly Small Business Economic Trends report shows that small business optimism continues to sag as significant obstacles to recovery remain – most importantly record-high numbers who report few-or-no qualified applicants and continued difficulties from supply chain disruptions.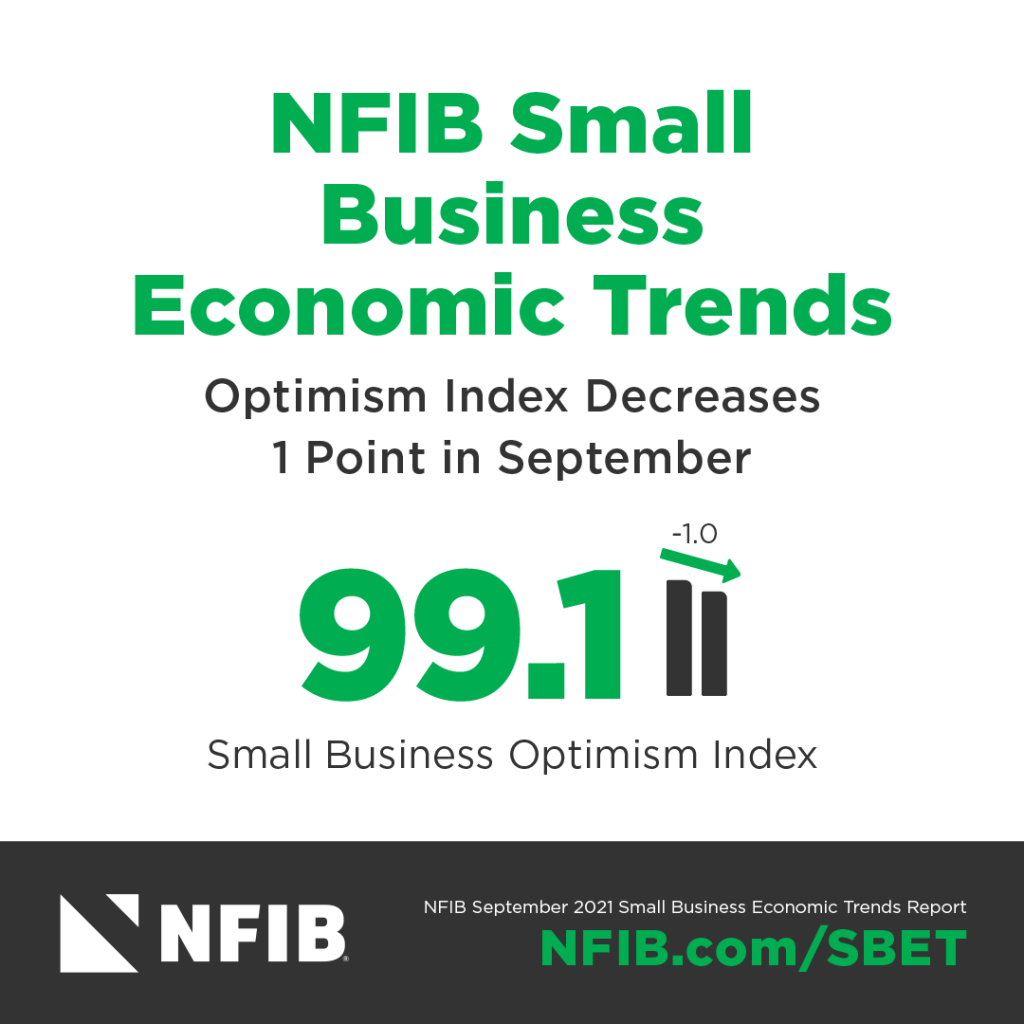 NFIB's monthly Small Business Economic Trends (SBET) report and September 2021 Jobs Report were both recently released. The NFIB Small Business Optimism Index fell from 101.1 points in August to 99.1 in September, the lowest number recorded since March 2021. Of the ten components that make up the index, three metrics improved while five metrics declined.  
Fifty-one percent of owners reported that they could not fill open positions, the highest number on record and more than twice the 48-year average of 22%. The number of owners reporting unfilled positions has increased every month of 2021 except for in June, and September is the third consecutive month to mark.  
Labor quality remains the most pressing issue facing small businesses, with a record-high 28% of owners citing it as their biggest problem and a record-high 12% citing labor costs as their top problem. 
"Small business owners are doing their best to meet the needs of customers but are unable to hire workers or receive the needed supplies and inventories," said NFIB Chief Economist Bill Dunkelberg. "The outlook for economic policy is not encouraging to owners, as lawmakers shift to talks about tax increases and additional regulations." 
More records were set in the number of employers raising employee compensation, as many firms are trying to entice more applicants. A net 42% have already raised compensation (1 point up from August) and a net 30% intend to do so in the next three months (up 4 points from August), both record-high readings. 
Six points down from August but still at a historical high, 26% intend to create new jobs in the next few months. Two thirds (67%) of employers have also reported hiring or trying to hire in September, a one-point increase from August. 
The continued volatility of the jobs market is cause for alarm for many owners, as the NFIB Uncertainty Index has increased five points to 74 while the number of owners expecting better business conditions has decreased five points to a net negative 33%. 
Read the complete Small Business Economic Trends report for September 2021 here, and see this news release summarizing its key findings. The September 2021 Jobs Report can be viewed here, and a news release on the report is here. 
Take Action: If you own a small business and fear that new taxes and mandates will hurt your recovery, tell your Congressional representative to vote no on any tax increases and new mandates for small businesses.